Clusters and courts on the edge of the Lomond Hills Regional Park
A commission to develop proposals for a wee community of 44 new affordable homes on the northwestern edge of the small Fife town of Leslie, for and with Campion Homes and Kingdom Housing Association, who asked us for innovative thinking around wellbeing in landscape and layout. The landscape-led scheme has been developed as a collaboration between Fraser/Livingstone Architects, horner+maclennan landscape architects and Dryburgh Associates.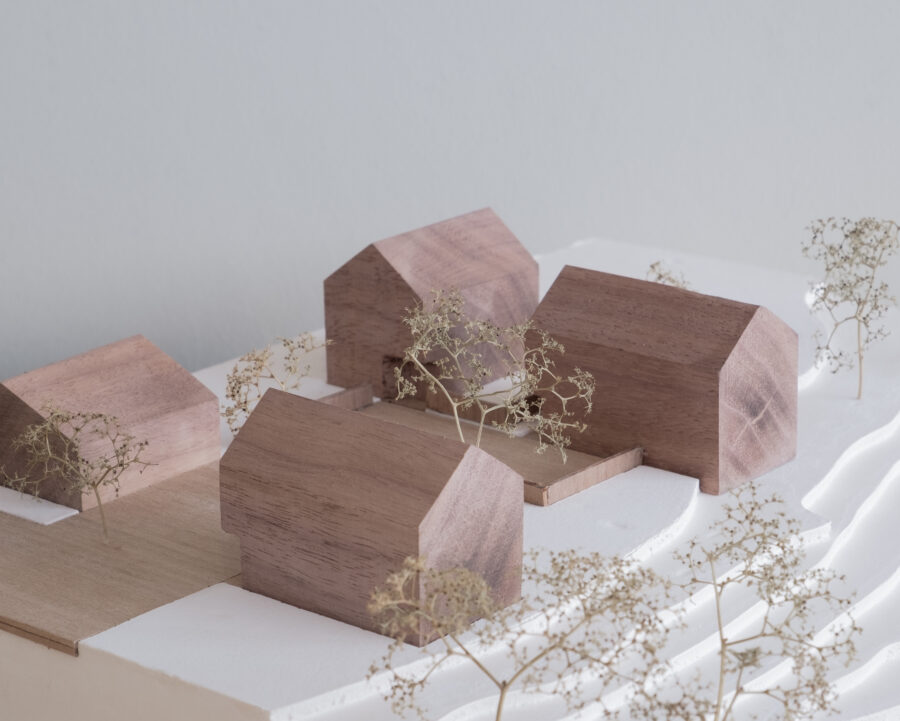 Client / Campion Homes and Kingdom Housing Association
Brief and Construction / New edge of settlement affordable homes on a former sand pit

Questioning the street 
Having long questioned today's urbanist orthodoxy that elevates "The Street" to community king, a mechanism that takes people elsewhere rather than rooting them a place, we favour, for instance, the much-reviled cul-de-sac as being the smallest element of contemporary shared community we know, equal to the historic mews, yard or court.
In considering this as a settlement pattern, we also sought to respond to the edge of settlement rural location on the edge of the Lomond Hills Regional Park with extraordinary views north to the Paps of Fife.
The new homes are composed around a placemaking ethos with patterns of gathering, sunshine and permeability. A shared surface public realm of connected streets, courts and amenity spaces is proposed, reducing vehicle speed, and forming a more pedestrian friendly, safe, attractive, sustainable community of new homes.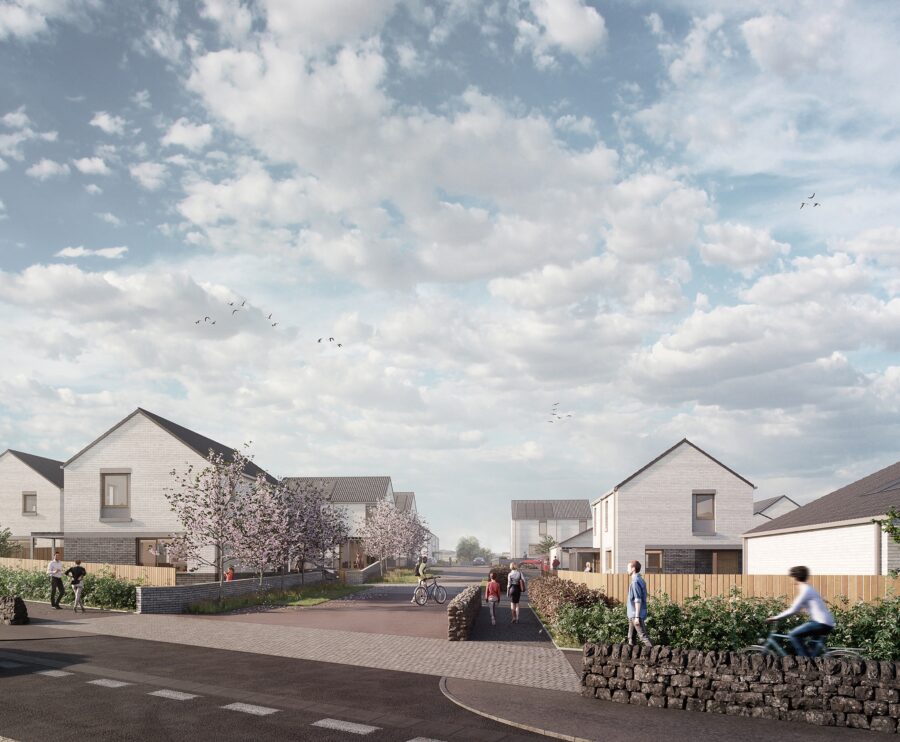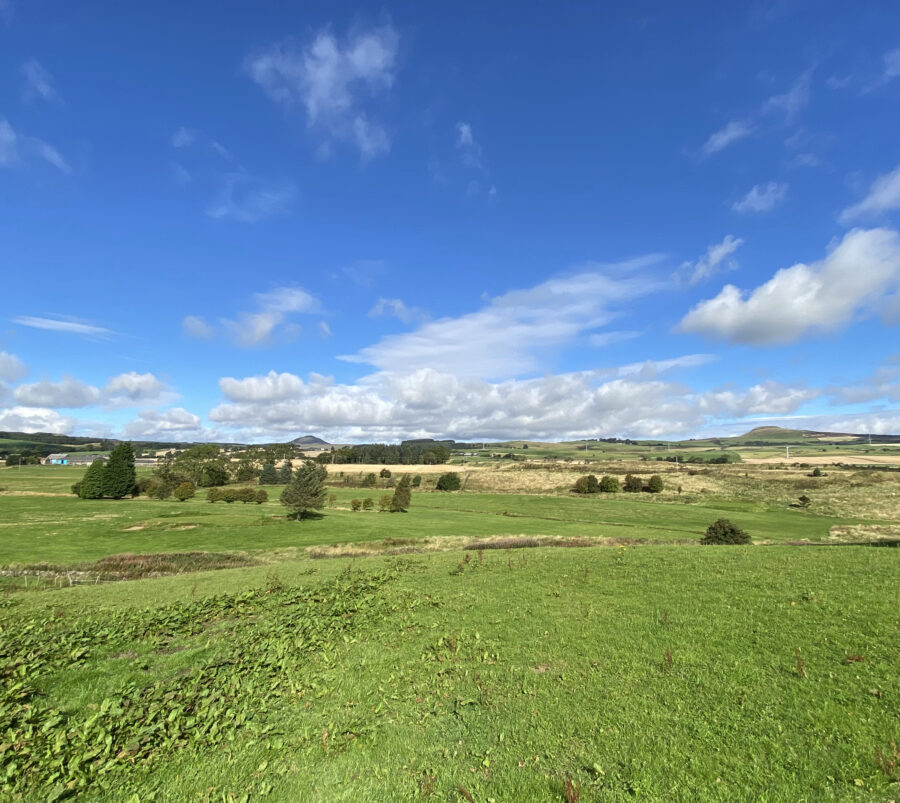 fla team / Emma Henderson, Robin Livingstone, Felix Wilson
landscape architect / Horner + Maclennan
engineers / Dryburgh Associates

principal designer / David Adamson Group
energy consultants / SK/AD
Density
Homes are then clustered together and accessed off shared, intimate courts. Linear house footprints are located to the north-eastern corner of each plot, allowing living spaces to open out to the south and west into generous sunny gardens. End gables are then presented to the boundaries of the site, responding sensitively to the edge of settlement condition, and maximizing visual and physical permeability through the development.
A new central shared square is formed at its heart, with links north to expansive open amenity space, offering play areas, communal allotments and a community orchard. A new sustainable community is formed, with homes, gardens, courts and streets connecting out to the green backdrop of Fife's Lomond Hills.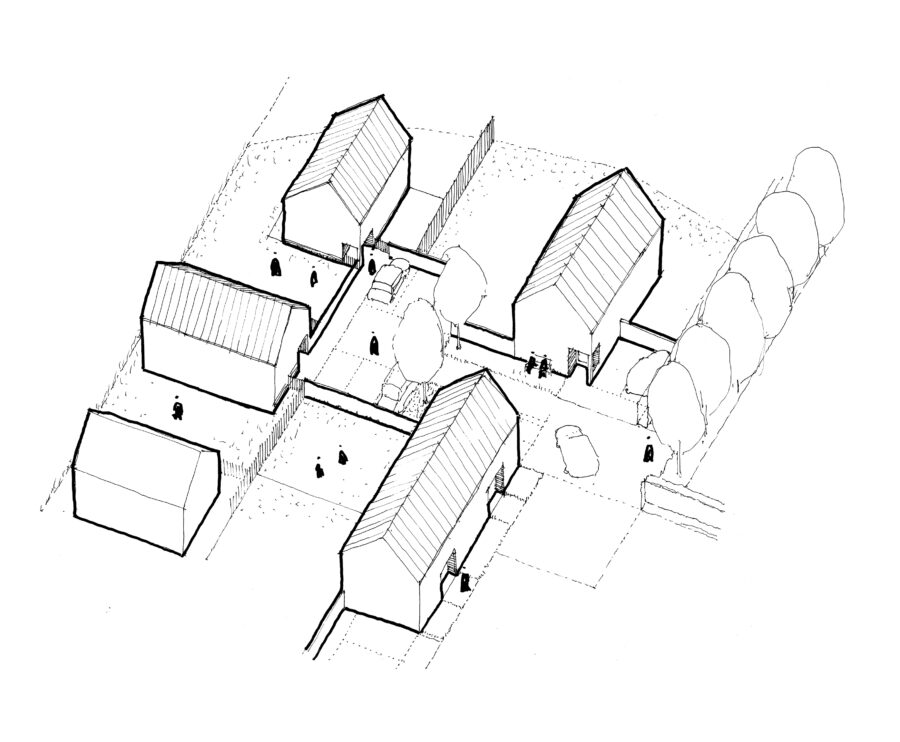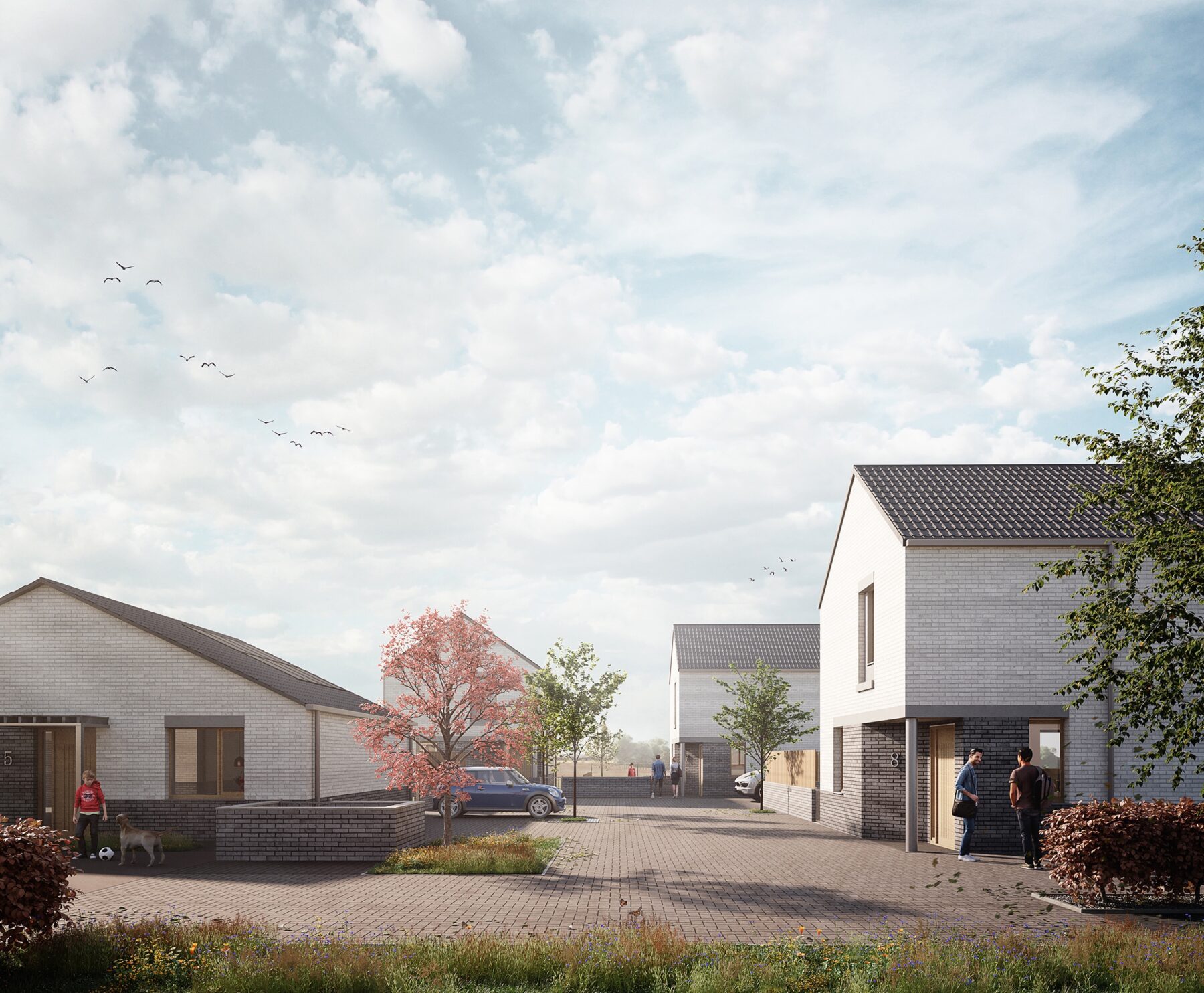 Forms
We like to compose our sites around patterns of sunshine and gathering: here from a home pressed to the north of a plot, and gathered together with access off shared, private courts. Each home's public rooms open up to the south and west, tumbling out to a decent-sized sunny garden.
Woven into this needs to be the standard requirements of the local and statutory authorities, from the challenges of bin lorries, refuse and recycling, suds, services and swept curves, to the normalities of parking requirements and the tendency to revert to the standard orthodoxies.
Connections are then made out to a central wee square, back to the new cycleway and main road with its busses, and north to the generous amenity area with play spaces and communal allotments, with fine views up to the Lomond Hills Regional Park.