An Artists' fieldstation whose construction was part-forestry, part-joinery and part-mountain rescue
The Search for a Site
The exact location grew out of a complex interaction between partners, landowners, local authorities and the landscape itself, as revealed by long clambers through wet undergrowth and wooded slopes, in carpets of pine needles and clouds of biting midgies, in search of natural and human drama.
The Big View
The site chosen is full of it. Sitting opposite the mountain, a visitor approaches Outlandia along a path cut through dense woods behind, descending out the musty dark to a big view which, framed by tall larches, opens-up across the Glen to the shoulder of the Ben. 
Great nature dazzles, but we soon adjust to see the multiplicity of human interaction within: threaded routes cross it, from the main road and West Highland Way along the foot of the Glen to the tourist route up the mountain, with its strings of tiny bobbling hats working their way up the hill; the car parks, caravan parks and visitor centre, places of the modern tourist trade; the old mills and older burial mounds and long view up to the Iron Age vitrified fort at Dun Deardail, traces of more ancient occupation; and the great, contemporary, industrial aluminium smelter down the Glen and the hydro that powers it.
Nothing could be further from the conceit of the Highlands as "unspoilt wilderness". We have long been part of this landscape, and artists making work for, from and around Outlandia have illuminated such tensions.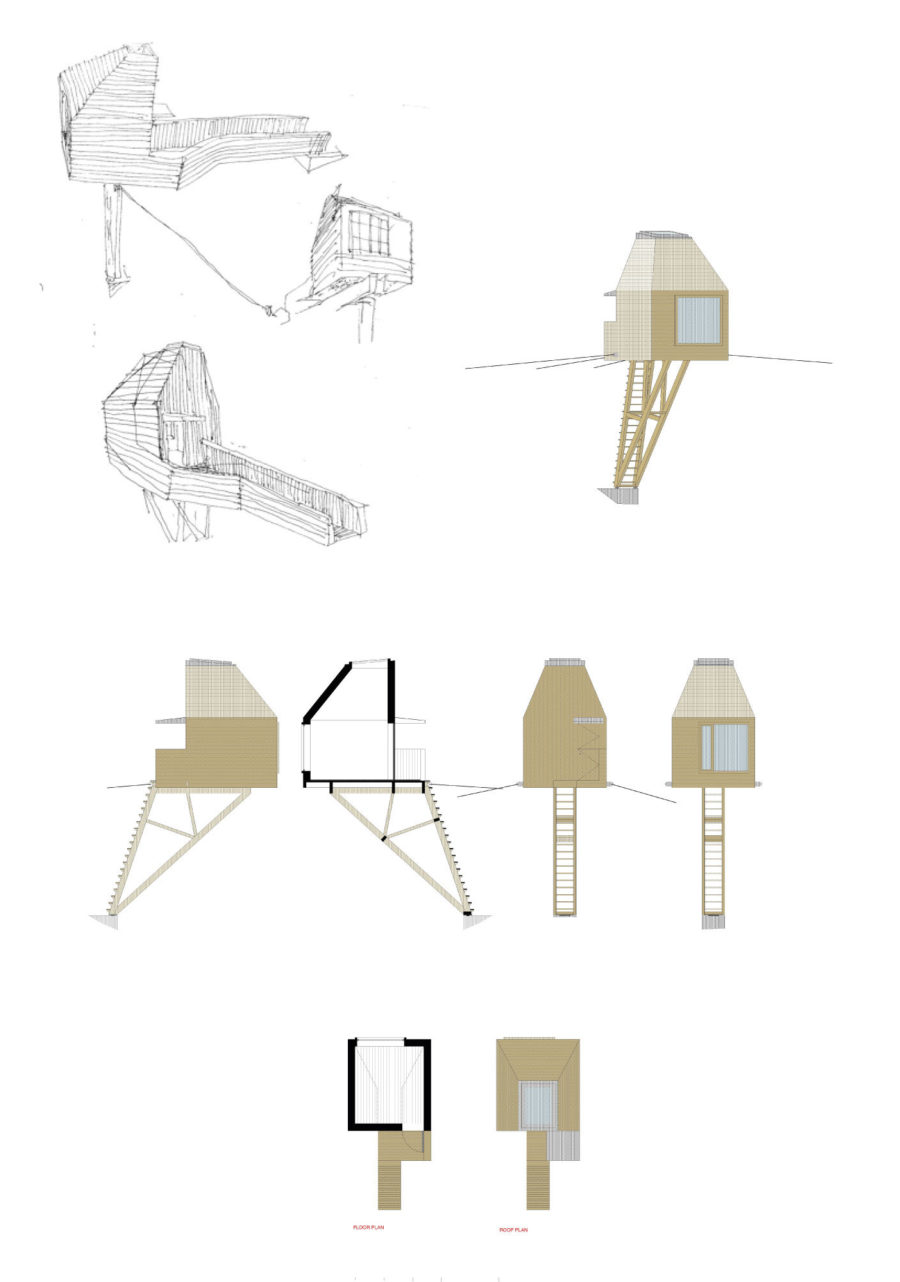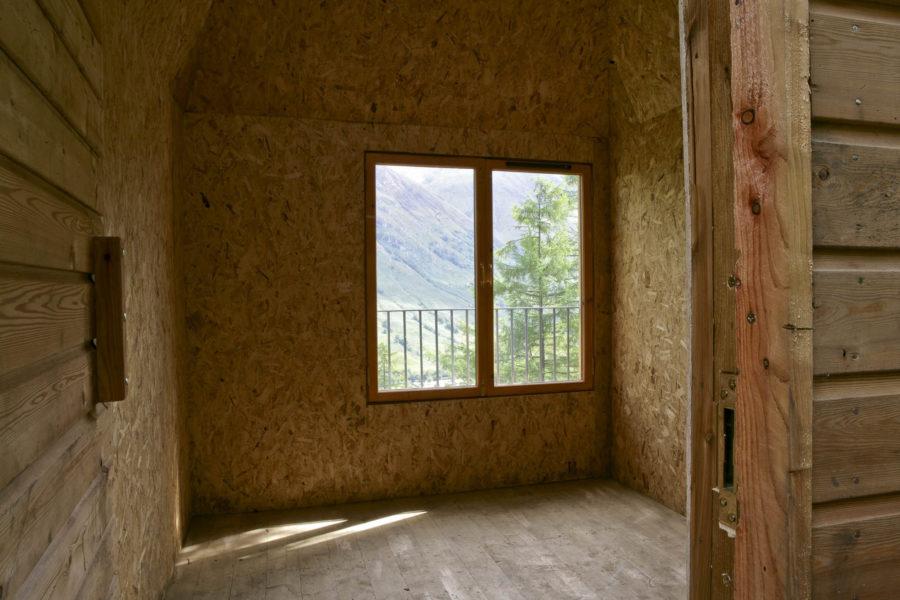 Location / Glen Nevis, Lochaber, Scotland
Client / The Highland Council; imagined by art partnership London Fieldworks (Bruce Gilchrist and Jo Joelson)
Architect / Malcolm Fraser Architects

Funding / Calouste Gulbenkian Foundation, the Highland Council, Highlands and Islands Enterprise, The Scottish Arts Council, Nevis Landscape Partnership
Completion / September 2010
Gross Internal Area / 6.5m2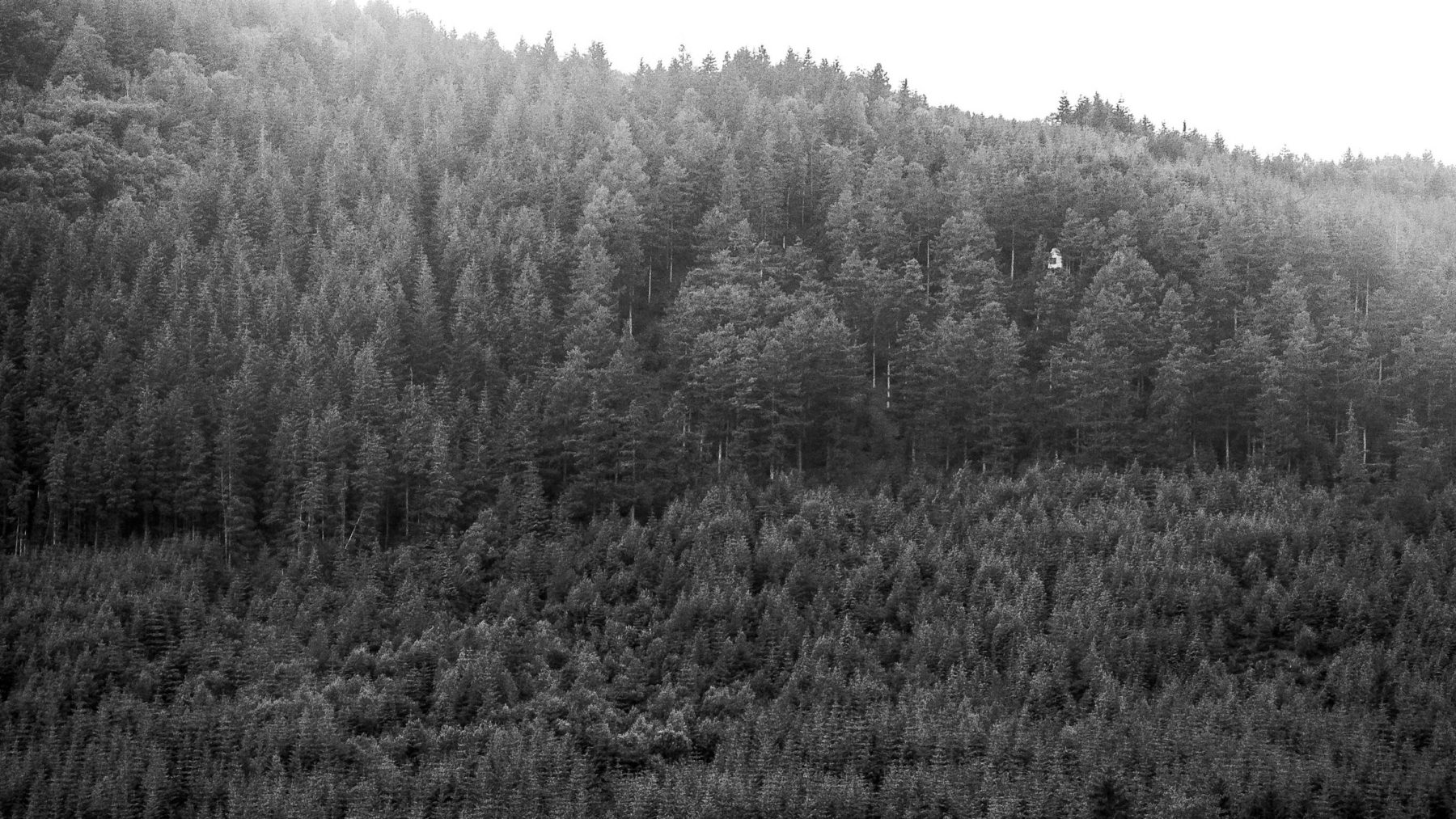 The Construction Challenge
The building itself sits out from a 45 degree slope: a treehouse, part-built out the trees cut down to form the site, entered across a bridge from the slope behind; a simple box, leaning-out into the view with a big window opening-up to it. Part of the process of building was low-impact, an eco-friendly use of material recovered from the site; and part was the opposite, high-impact, with daredevil landings of concrete, for the foundations, from a helicopter. 
Construction was part-forestry, part-joinery and part-mountain rescue, with a local contractor who nicely combined all three, and an unusual set of Risk Assessments.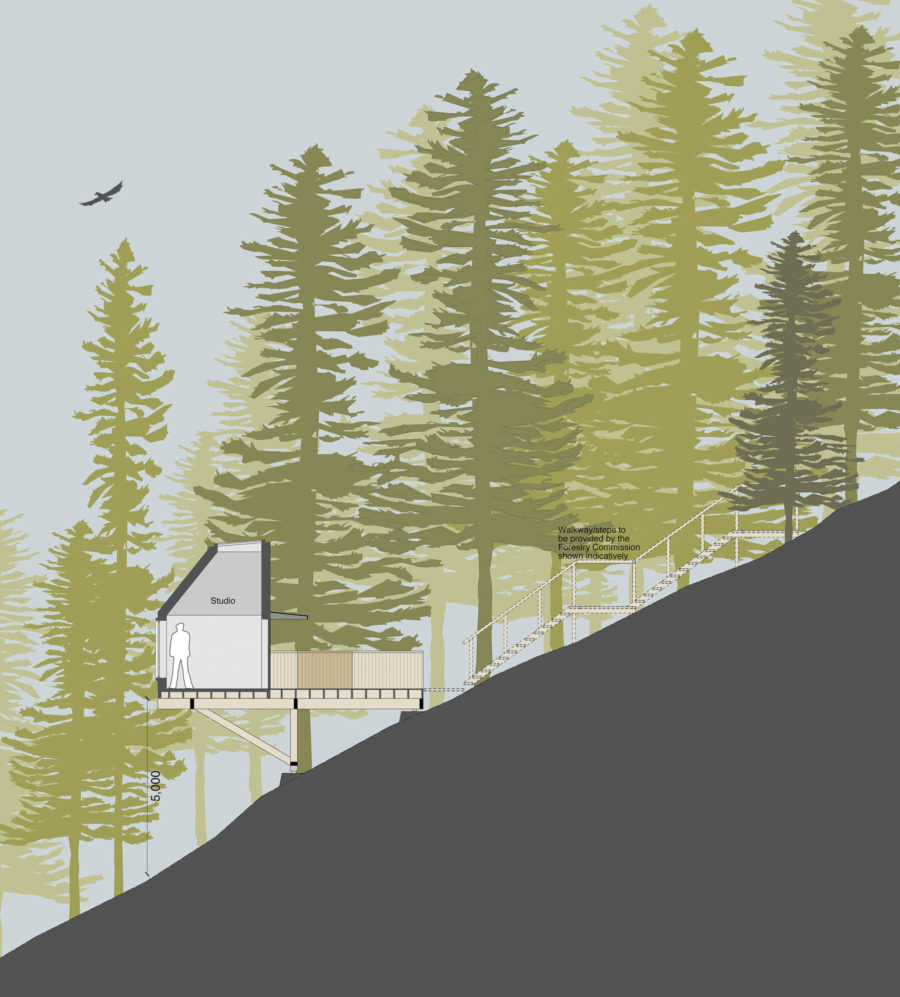 Main Contractor / Norman Clark; contract value £40,000
MFA Team / Niall Jacobson, Malcolm Fraser
Structural Engineer / Buro Happold
Costs / Hardies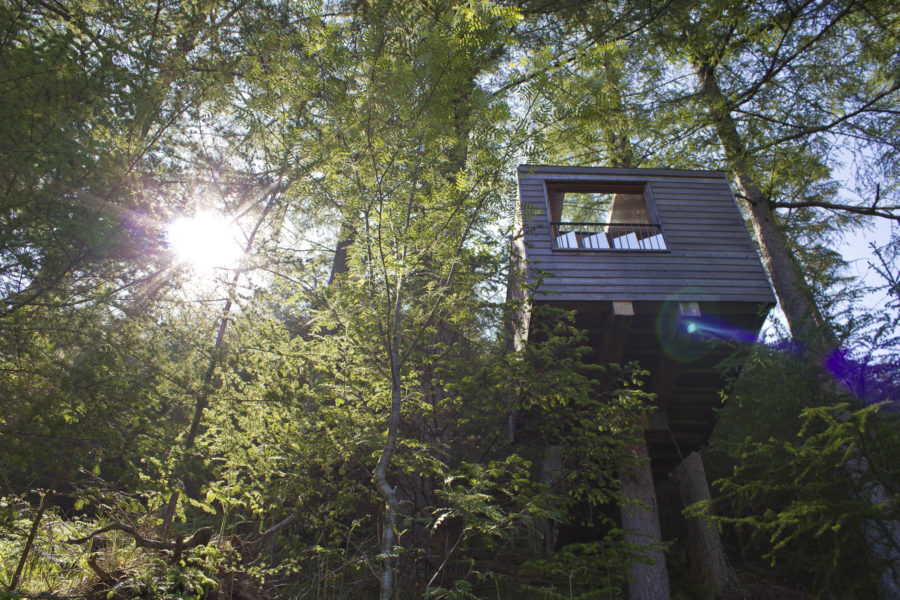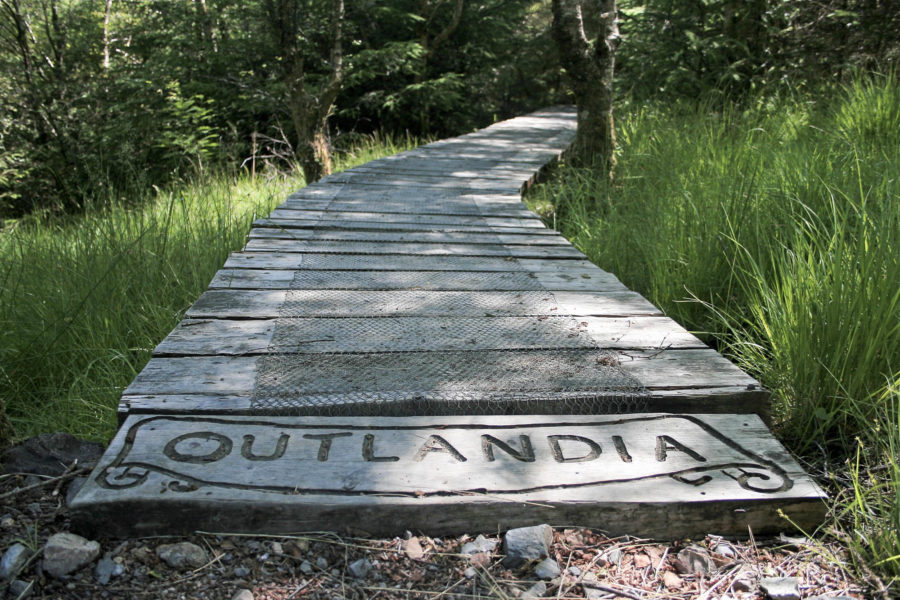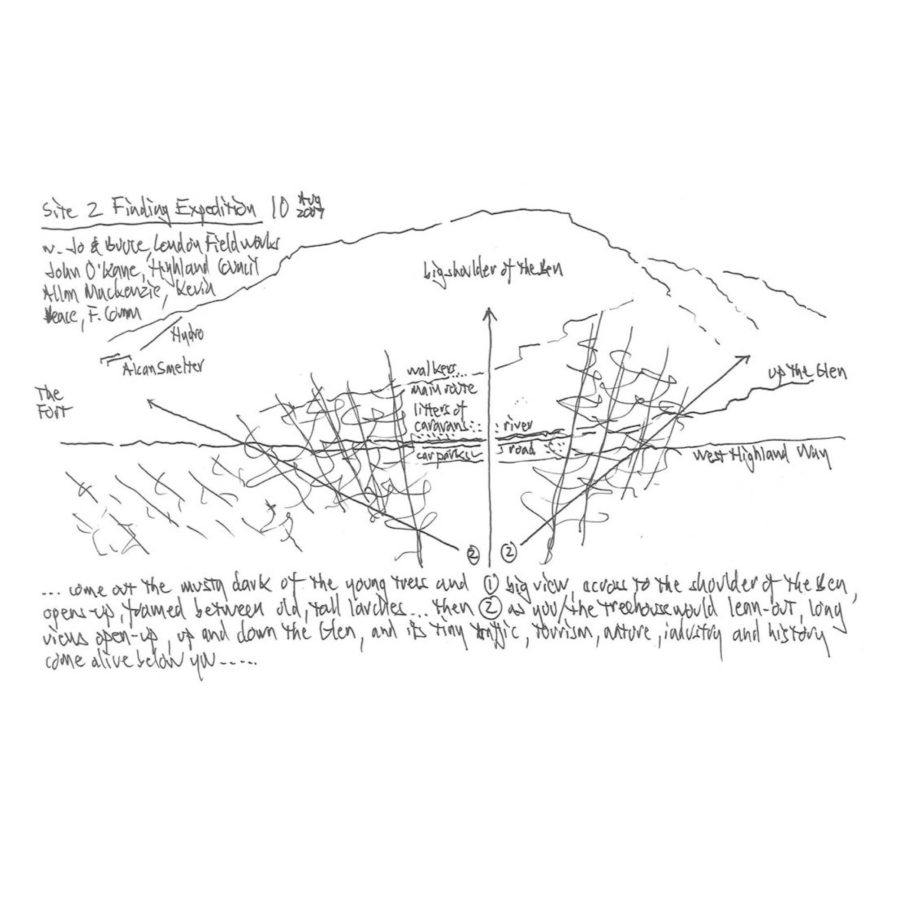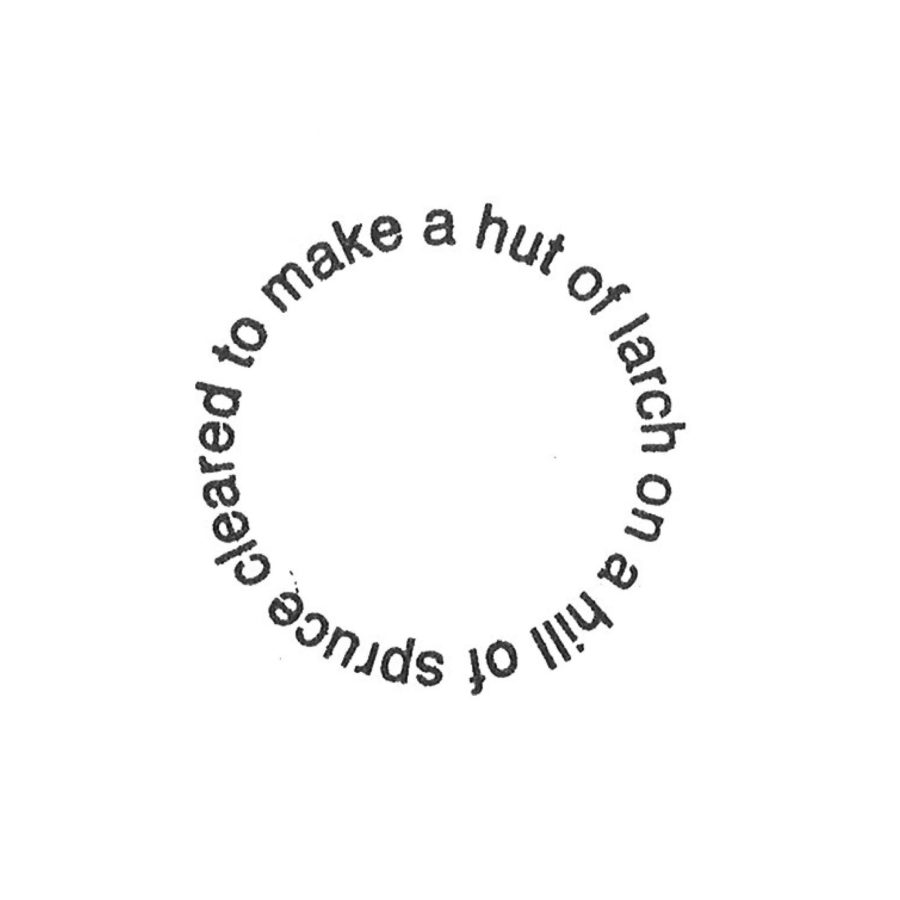 Publications
Further Information