Child-centred Architecture
Arcadia Nursery provides early-years education for the children of University of Edinburgh staff and students as well as the local community. It caters for up to 113 children aged from 6 weeks to 5 years of age at the University's King's Buildings Campus and has extensive play areas in and around mature trees.
Meeting the Brief
The Nursery was designed around the 'free-play' concept, which helps develop children's confidence, independence and creativity by encouraging them to choose the activities they would like to participate in, rather than them being dictated and spaces restricted. The layout has been designed to facilitate this with opening-up between playrooms, whilst ensuring the children are safe and easily supervised. 
Each of the three age groups' playroom is defined by a pyramidal form with raised storytelling mezzanines for the children in two and a first floor area for offices and staff and a family room in the third.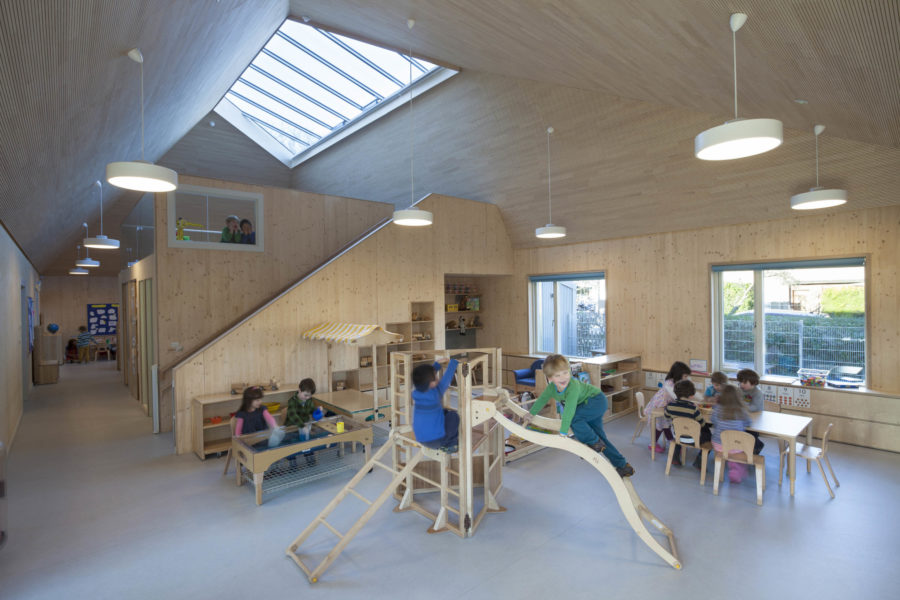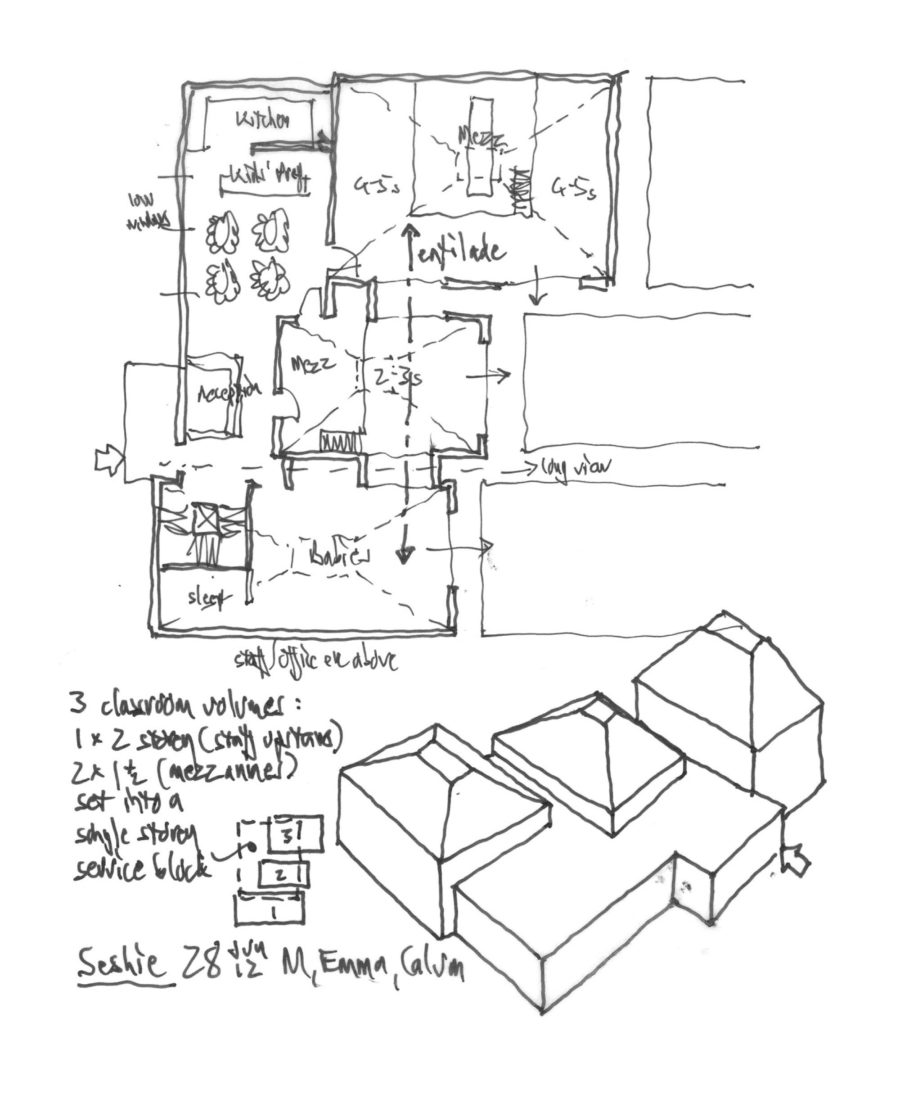 CLIENT / University of Edinburgh
ARCHITECT / Malcolm Fraser Architects
COMPLETION / August 2014
Gross Internal Area / 840m2; Capacity 113 children aged from 6 weeks to five years
Brief and Construction / Offsite cross-laminated-timber and vapour-open construction; integration with garden; liberating 'free-play' planning for children.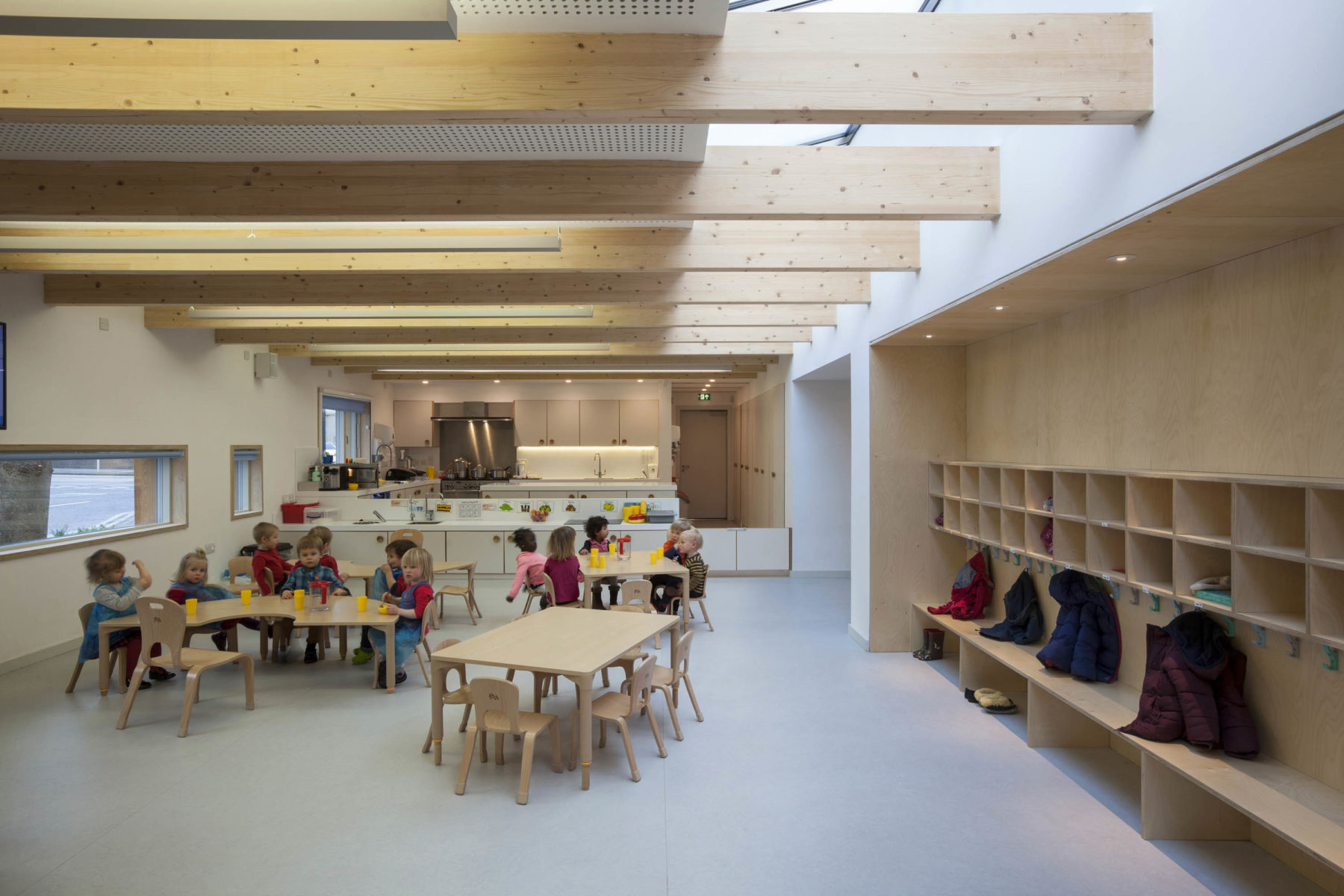 Outdoor Access in all Seasons
Each playroom spills out to a covered terrace to allow outdoor access for the children all year round, and then into three distinct garden spaces.
Closest to the building is a structured, enclosed garden with growing beds, play structures and a natural amphitheatre; next is a more challenging, natural play area among the trees; while a raised, snaking walkway bridges to the far meadow, with wild flowers and grasses and a willow enclosure for picnics and sports.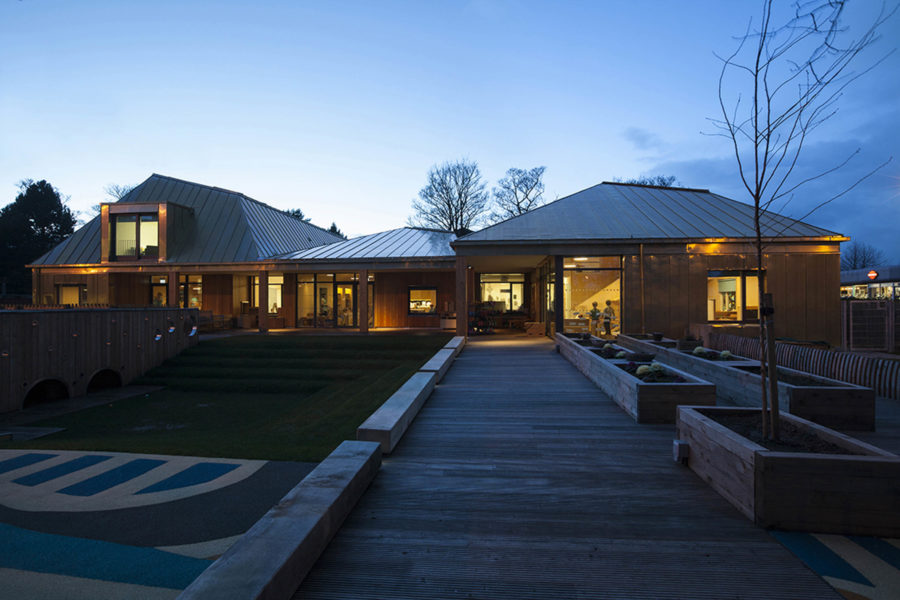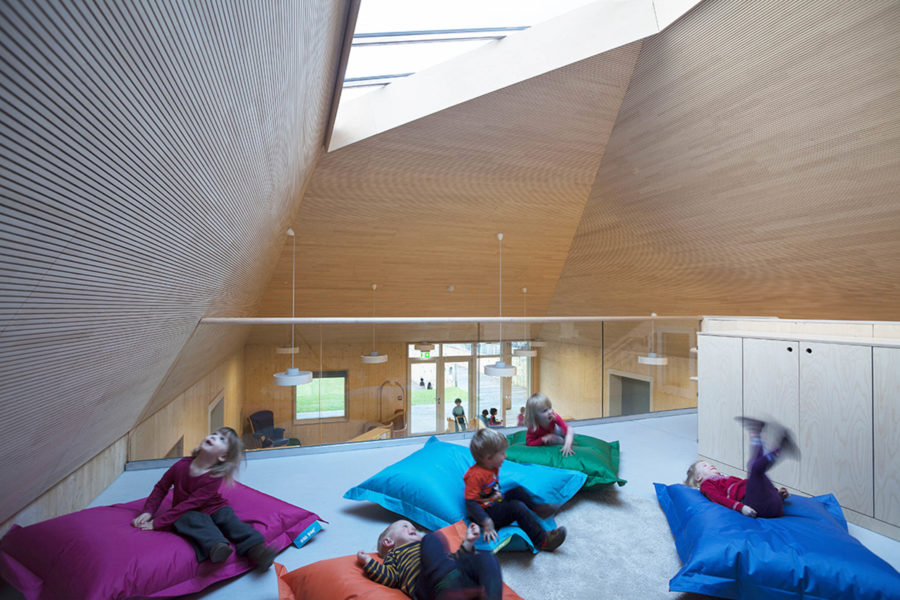 Main Contractor / Balfour Beatty contract value £2.1m
MFA Team / Emma Fairhurst, Gillian Storrar, Malcolm Fraser
Structural Engineer / AED

Services / Harley Haddow
Costs / Thomson Gray
Landscape / ERZ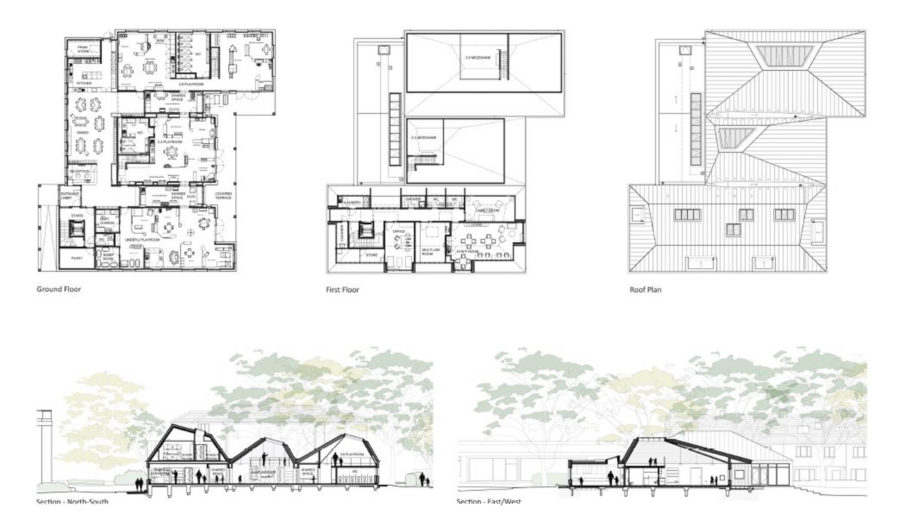 The Benefits of Building with Natural Materials
The team sought to create a healthy, calm environment for the children. A cross-laminated timber (clt) structure provided the perfect combination of creating a warm, tactile interior while also using a natural, sustainable product that could structurally achieve the clear roof volumes required to ensure the mezzanines spaces were not compromised.
Aside from the offsite and programme efficiencies and carbon-lock it is noted that a timber environment reduces stress and promotes attention and learning, as evidenced by children's heartbeats lowered by 8,600 per day in Austrian tests on similar buildings. The construction is vapour-open, meaning that CO2 and particulates escape as well as water vapour. Toxic materials and finishes were avoided – nothing nasty for the wee ones.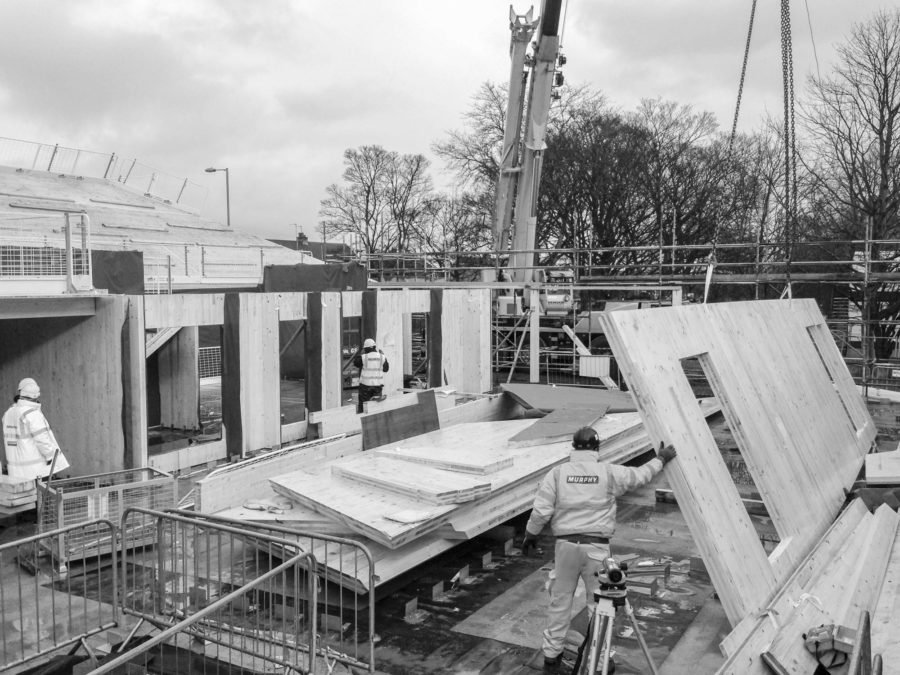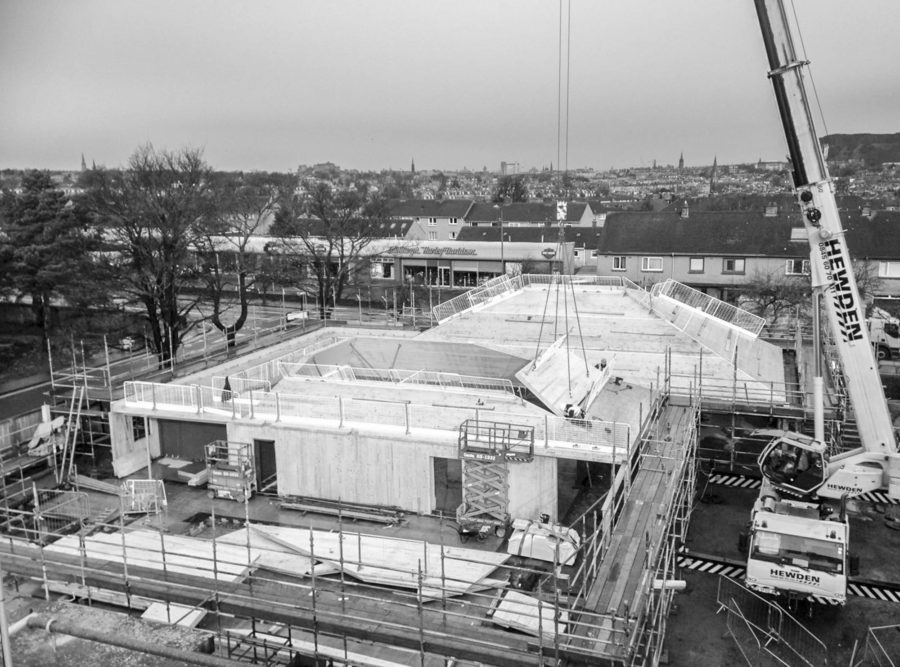 Sustainable and energy-efficient construction
The Nursery is a very low-energy building, connected to the central University Combined Heat and Power network with natural cooling and ventilation and highly efficient lighting and equipment. The specification of all materials was carefully considered, with materials chosen that are renewable and have low embodied energy and a minimal carbon footprint.
The design stage BREEAM assessment achieved a high score of 82.2%, with material and pollution sections achieving a 100% score.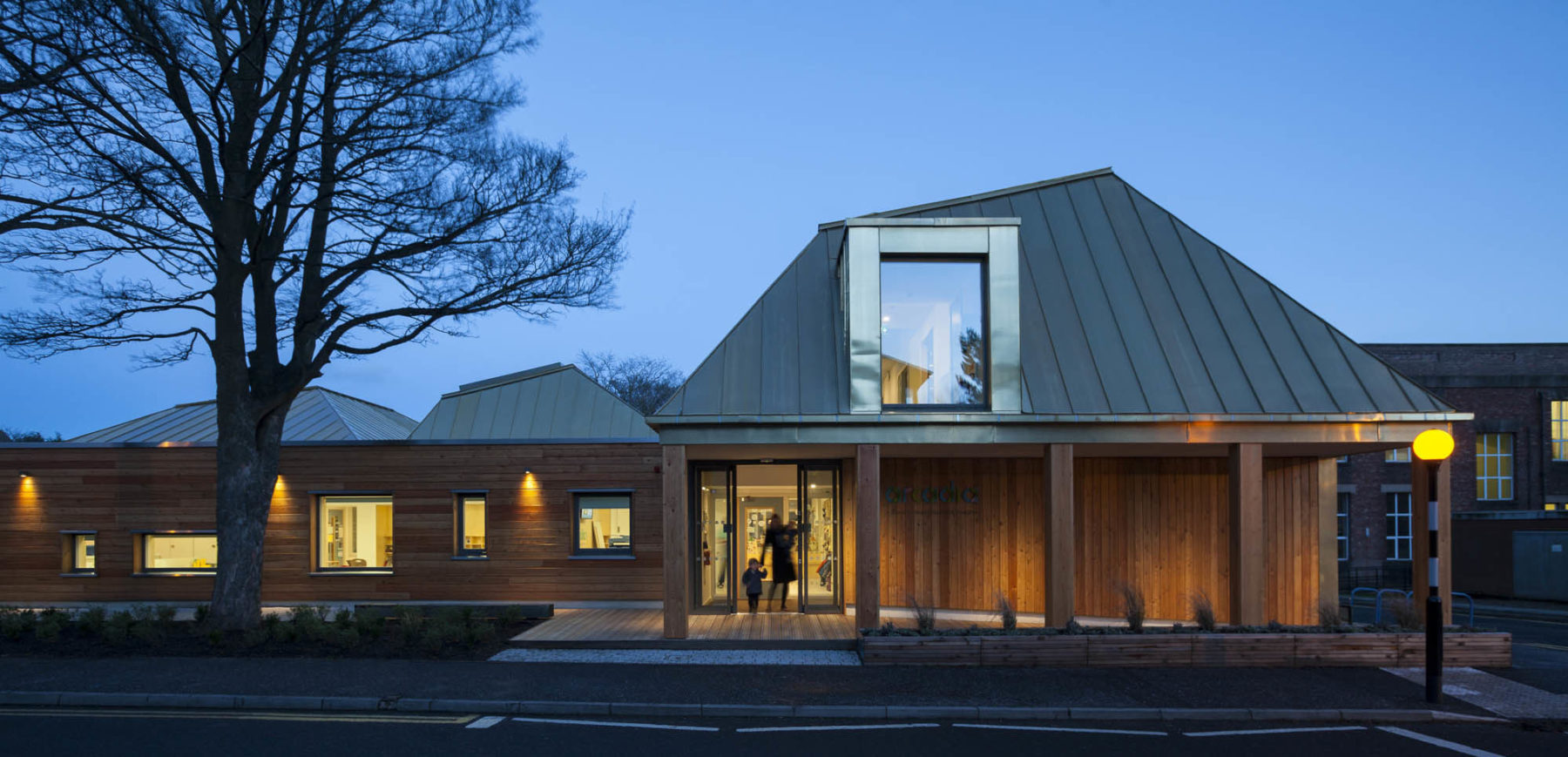 A place to learn, play and imagine
The architect listened to all the wonderful ideas that we had... every one has come to fruition
Rhona Connell of Arcadia Nursery talks about the experience and results of the project.
Principal Awards
Edinburgh Architectural Association Wood Award, 2015
Winner
Edinburgh Architectural Association Building of the Year, 2015
Highly Commended
Scottish Design Awards, 2015
Education Building or Project
RIAS Award for Architecture, 2015


RIAS Wood for Good Award, 2015
Best use of Timber
RIAS Zero Waste Award, 2015



RIBA Award, 2015


RIAS Doolan Award, 2015
Special Mention
Further Information