The Southside
The site sits in a mainly tenemental, socially-diverse, inner-city residential area and currently houses a single storey, streetside, flat-roofed workshop.
It is tightly wrapped by stone, brick and harled properties with a blank tenement gable to the north and buildings to the south and west with very narrow gardens tight against the site.

CLIENT / Seven Hills Property
ARCHITECT / Fraser/Livingstone Architects

Gross Internal Area / 6 flats, 434m2
Brief / Private apartments to replace an existing workshop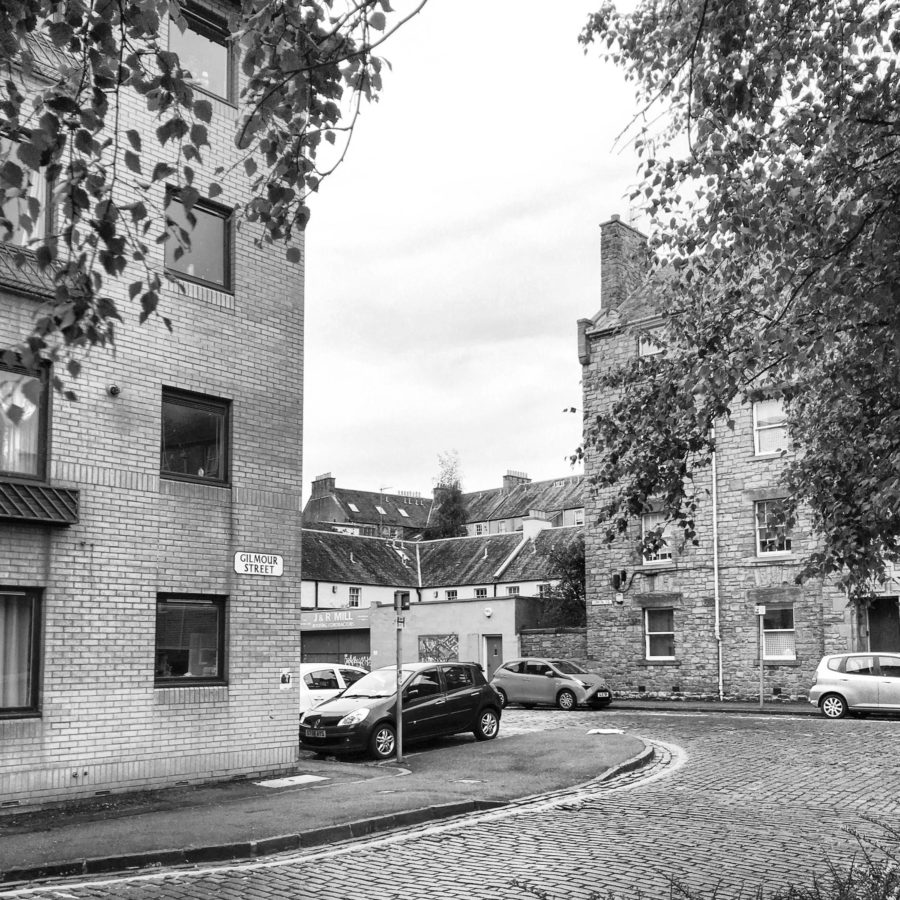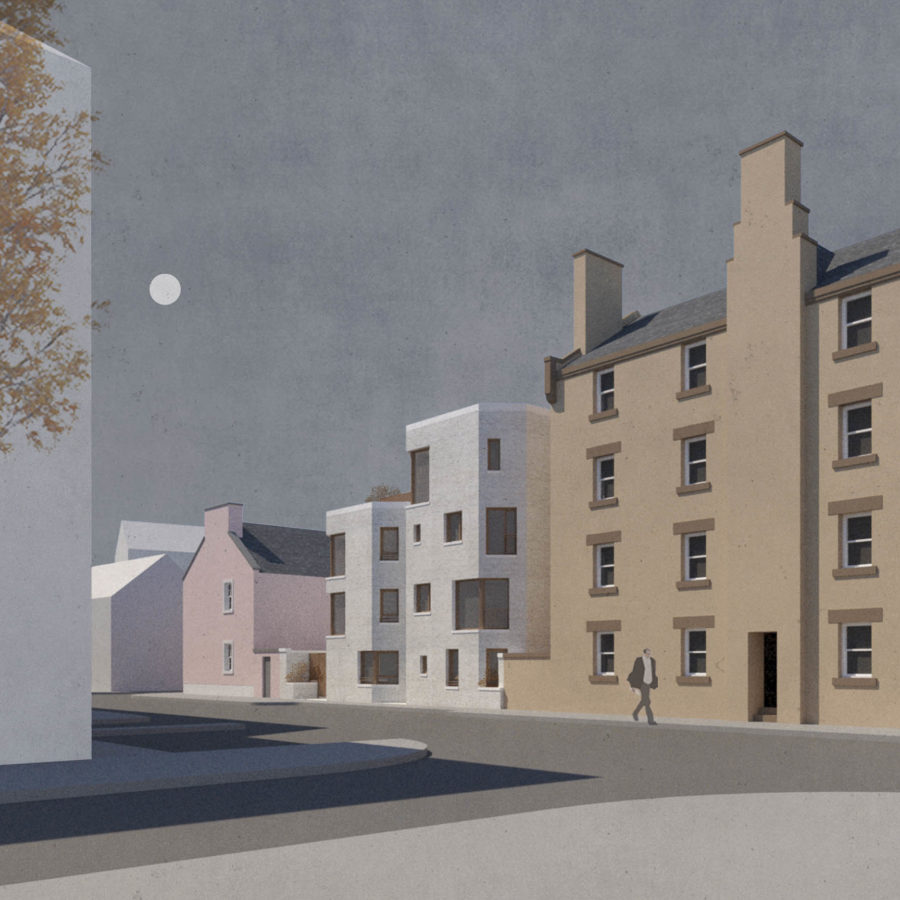 A Little Court and a Modelled Form
The proposal pulls itself up to its north boundary, against its neighbour's gable, creating a small, shared entrance court - Simon Court - to the south, protected from the street but enlivening it.
The 4m tall boundary wall is lowered to 2.4m, letting light and space into the neighbour's narrow gardens. The building form is then modelled, chamfering and serrating it to, at one and the same time, avoid overlooking neighbours' windows, direct views out to trees and along the street to good local buildings, grab the sun and make good, useful room shapes.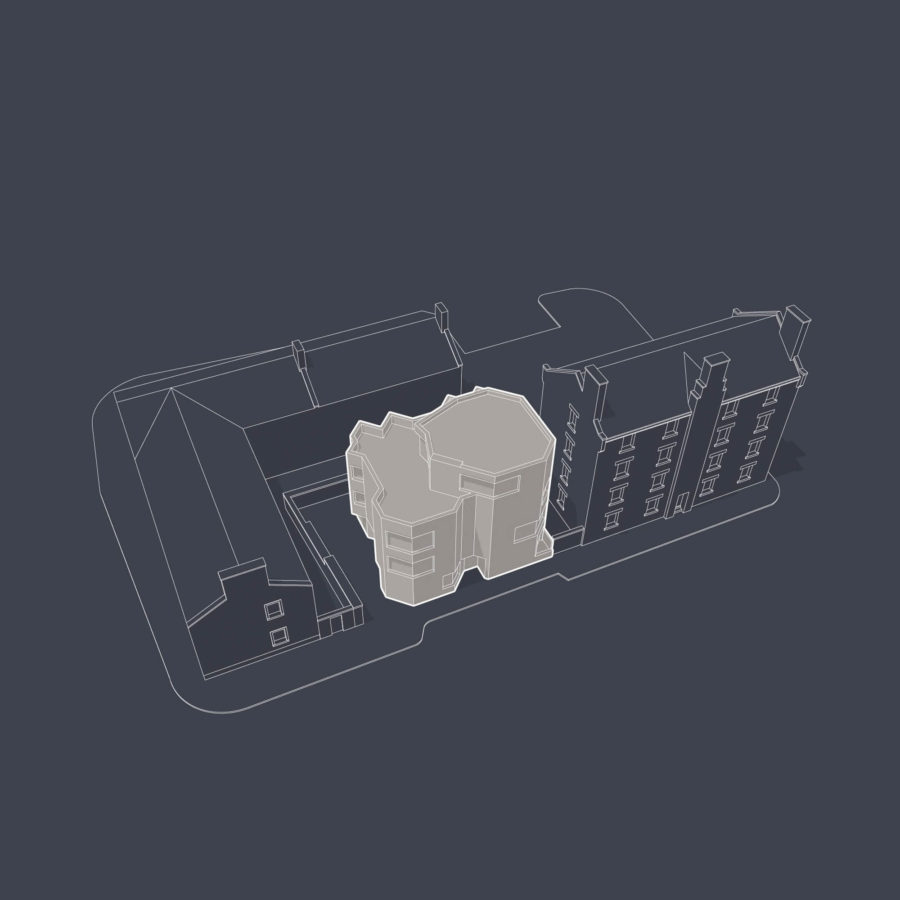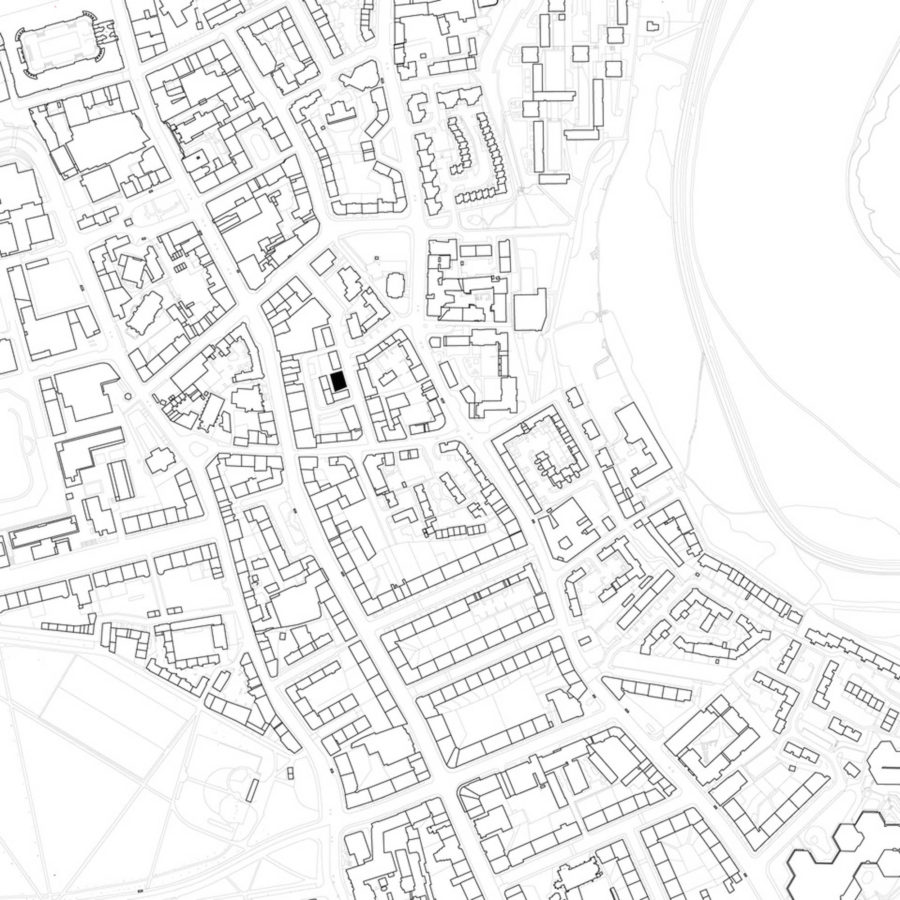 Six Homes
There are six new apartments arranged over a stepped three and four-storey form, planned around a central stair entered from the new Court. The rear ground floor apartment is afforded a skinny garden court and the double-upper, top-floor one, living spaces on the upper floor spilling out to a glorious south facing terrace with views out over Edinburgh.
A Masonry Monolith
Historically the Southside is stone - great, solid, masonry monoliths. Recent interventions have been in brown brick, with a return to stone deployed as scenic heritage wallpaper, thin and unconvincing - and strangely non-contextual. Simon Court proposes brick with a lime slaister-coat dragged across it, to lose the "brickiness" and attain a satisfying monolithic solidity.

FLA Team / Andrew Gillespie, Ayla Riome, Coll Drury, Malcolm Fraser, Robin Livingstone
Structural Engineer / Elliott&Co
Costs, PD / David Adamson Group
Services / Harley Haddow
Carbon-Capture, Healthy-Construction
The building material of the future is good, old-fashioned wood. Not the flimsy "kit" construction the house-builders use but thick, solid, structural timber walls, locking-up substantial amounts of carbon. Outside them, and inside the brick skin, is woodfibre insulation, all vapour-open construction, allowing water vapour, particulates and CO2 to migrate out the fabric - in contrast to almost all other contemporary construction, whose polythene wrap means that, essentially, we live in poly bags, with the inevitable effects on our respiratory and associated health. 
We have used this technology before, for University buildings (the Edinburgh Centre for Carbon Innovation) and the University's Nursery, Arcadia, so the technology is tried-and-tested. It's also noted that such Nurseries, with this timber exposed, have been tested and the children are shown to take over eight thousand fewer heartbeats per day, resulting in less disruption and better concentration - healthy outcomes their parents can benefit from too. But this is the first time such simple, healthy construction technology has been transferred to a developer model with a traditional tenement form.